About
Priorities
Master plan
Infrastructure
Logistics
Residents
About Neftchala Industrial District
Neftchala Industrial District was established by Decree No. 1011 dated February 2, 2015 of the President of the Republic of Azerbaijan "On the establishment of Neftchala Industrial District".
The purpose of establishment of the industrial district
Supporting the activity of micro, small and medium entrepreneurs operating in the industrial field
Ensuring sustainable development of the non-oil sector
Increasing employment of the population in the field of production
57,8 million manats
Investment volume
Master plan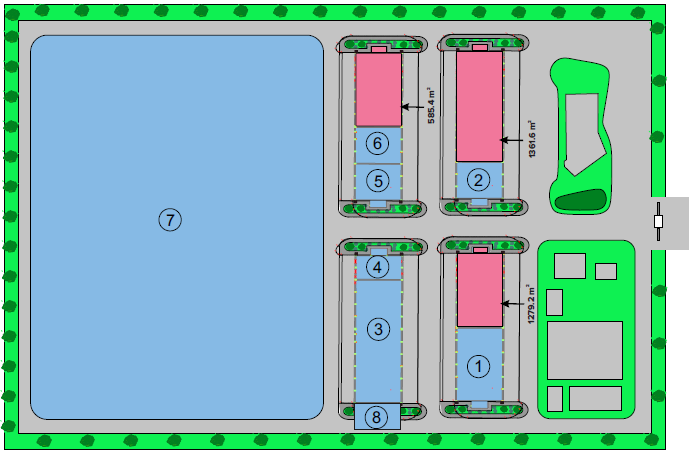 Electricity supply
2.89 MW
The total capacity of the electric substation is 2,89 MW.
Water supply
10.4 m3/hour
Enterprises of the Neftchala Industrial District are provided with potable water according to relevant standards. Water reservoirs and a pumping station of the industrial district ensure an uninterrupted supply of water. The capacity of potable water is 10,4 m3/hour. At the same time, there are separate lines in the industrial area for the discharge of waste and rainwater from enterprises.
Natural gas supply
128 m3/hour
Natural gas supply to Neftchala Industrial District meets the requirements of enterprises in accordance with all safety norms and relevant standards. Its capacity is 128 m3/h.
Fiber-optic cable
FO-24/12
There is a fiber optic cable line (FO-24/12) providing high speed internet in Neftchala Industrial District.
Internal car lines that meet high standards have been built for comfortable movement of cars, including trucks in the Neftchala Industrial District and the route lines cover all production and non-production points.
Logistics
177 km
It's 177 km to Baku
450 km
It's 450 km to Tabriz
Residents